Twist Collective Blog
Issara: Customizing & Tips
Details

Published on Tuesday, 28 September 2010 20:00
Anne Kuo Lukito offers us a second blog post about Issara, with some wonderful tips for customizing this fantastic knit. This is a cross post from her blog.
I know I promised this post a while back, but better late than never, right? Here are some ideas and tips for customizing your Issara

Blocking:
Issara is rather bulky and heavy, which can make blocking challenging, especially with the pleat. Before wet blocking, I suggest basting the pleat closed and in place with a high contrast waste yarn. Then, to shorten your blocking time by several days, I would put it in your washer on spin cycle. Do not actually run it through the washing machine. Once your machine has done all the work of sucking off the excess water, you can block the coat as you would normally do.
I was a bit impatient when blocking the sample, especially for the stubborn pleat, which remained damp when other parts of the coat had dried. This is due to the thickness of the multiple layers. Thus, I sped up the process in the pesky areas with a hairdryer. You can also face a fan towards your garment, which will shorten the overall time considerably.
After the coat had dried both naturally and with the help of my handy hairdryer, I fine-tuned blocking some of the other elements, such as the pleat and the edging, with my steam iron. When you steam-block with an iron, make sure that you are not touching your garment with the iron, especially if your yarn contains synthetic fabrics. You don't want to melt your yarn! Instead, hover above your garment by about 0.5″ to 1″.
Adding More Waist Details:
If you would like to add a more substantial and visual waistline than the single purl ridge, then I'd suggest omitting the purl ridge and instead, work in about 4-5 rows (or more, if desired) of seed stitch right after the folding of the pleat. You can also do a reverse Stockinette stitch band, though I think doing the seed stitch will be more unifying design-wise with the rest of the garment.
If you'd like to add a belt that's 1.5″/ 4cm wide, CO 5 sts. Row 1: Sl1, [k1, p1] twice. Repeat Row 1 until desired length and BO. Then, for the belt loops, I'd crochet 3 or 4 chains that are a little longer than the width of the belt and attach the loops right above or over the waist ridge. Don't forget that you'll need to allot extra yarn for this.
Shortening the Coat:
If you're a bit short, or would just like a shorter coat, the best way is to reduce the number of Stockinette stitch rows between the skirt shaping. The gauge works out to 4.5 rows per 1″/ 2.5cm. Thus, if you'd like your coat to be 2″/ 5cm shorter, then I would omit 8 or 10 St. st rows in the skirt. I would disperse throughout the skirt to maintain the gradual A-line shape.
If I had more ample assets in the hip area as well, I'd probably work the omissions closer to the top of the skirt. This way, I'm shorting the skirt, but also do so in a way that gives my hips more room. For example, if I was working size 39 3/4, instead of working the Decrease row every 10 rows in the 6th and 7th repeat, I'd work the Decrease row every 6 rows.
Making it a Jacket:
I you are in a warmer climate or just prefer a jacket over a coat, you can omit the pleat and make it a shorter, hip-length jacket. The following instructions will get you a jacket that measures about 5.25″/ 13.5cm below the waistline of Issara, which would give you a length of 17.25 (17.5, 18.25, 18.75, 19.25, 20.25, 20.5) from shoulder to hem. Of course, you should modify it further as desired to accommodate your needs and preferences.
CO 125 (133, 137, 149, 153, 161, 169)
Set up 1 (WS): Sl1, [p1, k1] to last st, p1.
Set up 2 (RS): Sl1, [k1, p1] to last st, k1.
Rep Set up rows 1 and 2 again.
Using removable markers, place marker after the first and last 31 (33, 34, 37, 38, 40, 42) sts.
Row 1 (WS): Sl1, [p1, k1] twice, purl to last 4 sts, [k1, p1] twice.
Row 2 (RS): Sl1, [k1, p1] twice, knit to last 4 sts, [p1, k1] twice.
Rep Row 1.
Dec Row: Sl1, [k1, p1] twice, knit until 2 sts before marker, ssk, sm, k2tog, knit until 2 sts before next marker, ssk, sm, k2tog, knit to last 4 sts, [p1, k1] twice.
Work as established, working Dec Row every 6 rows 3 more times. – 109 (117, 121, 133, 137, 145, 153) sts.
Next (Waist Ridge, WS): Sl1, [p1, k1] twice, knit to last 4 sts, [k1, p1] twice.
Next: Rep previous row.
Work Bodice and the rest of the of Issara as instructed in the pattern.
Tutorial & FAQ:
In case you are not aware, I try to post tutorials/FAQ pages for many of my patterns, especially those that require some special, unusual or more intermediate techniques.Click here for an index of all the tutorials on this site. Click here for the Issaratutorial/FAQ. If you have a question that's not addressed in the tutorial, you can post your question in the comments or go to my Ravelry group.
Sandridge: Origins
Details

Published on Sunday, 26 September 2010 20:00
Elizabeth McCarten's debut pattern for Twist Collective, is the versatile and flattering Sandridge Cardigan which includes instructions for a men's or women's version with a zipper or button closure. This cross post from her blog covers the design inspiration behind this beautiful and wearable piece. 
I'm very fortunate to have two young adult kids who enjoy wearing my knits. Perhaps I've just trained them to wear sweaters, but I like to think it's because I listen when they tell me what they want. When my son, James, announced that he really wanted a zip-front jacket, I cringed--in part because he would be leaving for the start of his third year at the University of Toronto in only a week, and in part because zippers really weren't my thing. I'd made the mistake of showing James the photo of Jared Flood wearing his version of Paton's Urban Aran. James thought he'd look totally cool wearing it, and I did too, but I had concerns:

James hasn't inherited his father's height; he's about 5'9". Respectable, even average, but sometimes it's hard to get sweaters to be an absolutely perfect fit if they're knit in pieces. The sleeves might be just a little too long. Ditto the body, and it's a major hassle to change things knitted in pieces, especially once you've started the sewing. I wanted a top-down design so that he could try it on as I knitted. 
I also wanted cables, but not too many. The jacket had to be interesting to knit, but not too interesting to look at, because guys generally don't want to stand out.
I wanted to complete the whole thing in one week. I wanted a fairly easy, quick knit.
I was prepared to deal with the 2-way zipper, but I was determined to insert it in such a way that it would be easy, neat, and the teeth of the zipper wouldn't show. I'll blog more about the zipper insertion in another post.
Next, I thought about where James would be wearing his new jacket. The University of Toronto is broken down into colleges. James is a student of Trinity College. Trin's Strachan (pronounced Stron) Hall is a beautiful dark grey stone building in the gothic style. If you look closely up near the roof, you can see stone snakes zigzagging back and forth just under the eaves--at least, I think they look like snakes. So,the sweater was born in time for the first cool weather of the season. 
While it was being created, I tried it on myself, just out of curiosity. I loved the way the cables made me feel taller and thinner (always a good thing), but I wanted room for my hips and a longer, more feminine silhouette. Soon I had a twin version for myself. I wore it with everything and everywhere, particularly when I went walking on the grassy heath along Sandridge Road near our then home in Ottawa. 

Then, the Christmas season rolled around and Isabel, my daughter requested a version, but more fitted, please. She's very petite, even bird-like. So, this time I made the jacket fitted to the waist and found some ancient, Rowan buttons from my stash that looked unusually well with the purple heather wool Isabel had chosen. 
Three sweaters, related, but each with its own personality.
Tolovana: The Making Of
Details

Published on Monday, 20 September 2010 20:00
I put a lot more time into planning my wedding shawl than I did my actual wedding and to be honest, that's not saying much because my wedding planning amounted to sending an email to my closest family, booking a hotel room, getting a license and hoping for the best. If only knitwear design were so easy. Though, to be fair, I find designing pretty fun but would be entirely content to never plan another wedding.
So to start, I pulled out my entire collection of stitch dictionaries looking for motifs to pair together. I didn't have a strong sense for what I wanted but I knew I wanted to take what I learned from designing La Cumparsita and expand on it, making a project that had more details, and a strongly scalloped hem. I ended up choosing only a single motif and scaling it up and down to form three versions, a border and transitions between each.
At the same time, I started to think about yarn. I wasn't sure what I was going to be wearing but I thought red might be pretty so I ordered three Grafton Batts from Amy.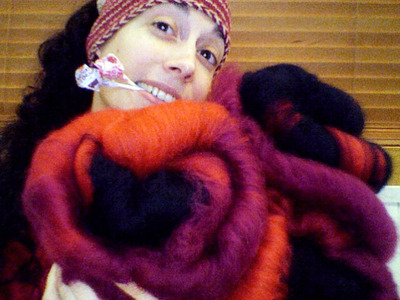 sweet batts are sweeter with candy
It was a little challenging but I did my best to work all three batts as one to maintaining the color transitions these batts are so well known for.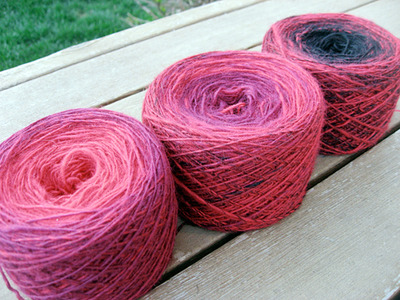 I ended up with about 1100 yards of rich glorious fingering/sport weight singles and began the swatching and knitting and charting and calculating. I was cranking along and doing great until I actually decided to start looking at dresses.
I suppose this my have been an acceptable reason to consider a white or ivory dress, but as I am already a brilliant shade of "fish belly" and since *ahem* the symbolism associated with wearing white most certainly wouldn't apply to me, I was determined to wear some other color and some other color I found. It just turns out that blue-green doesn't actually go terribly well with red and burgundy.

so sad, don't let the door hit you on the way out
At this point, spinning another 1000 yards or so of fiber just wasn't going to be an option, but I had some purple Handmaiden Seasilk burning a hole in my stash that was more than up to the task.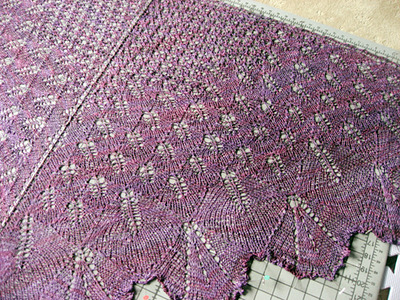 The final shawl is incredibly delicate and actually snagged quite dramatically right before the wedding. But really, what's a wedding without at least one moment of panic? The fibers smoothed out as easily as they snagged, but it was clear to me that this would always be a special occasion sort of wrap, not one to to throw around my neck before heading out to the city.
When Kate asked me if I'd like to publish the pattern in Twist Collective, I jumped at the chance. Instead of the delicate seasilk we decided to go for two uniquely different yarns and offer two variations of the pattern.
The green version is worked in Sundara Sock. The lace has larger expanses of stockinette for a warmer, denser feel. This is the version I'd use as my all purpose, scarf/wrap on chilly winter days. It's washable, strong, tightly spun and the colors are rich, yet it unfurls into a beautiful shawl that looks great wrapped around your shoulders while you are out on a dinner date.
The violet version is more true to the original, and worked in Sundara Silky Merino which offers the drape and sheen of the prototype with a little of that merino resiliency I love so much. The more delicate and open version of the lace pattern makes it a great option to wear for more formal occasions, but it's not so delicate that you'd be afraid to put it to good use.
It was really a fun design to come up with and as someone who knit the pattern twice (I did hire a sample knitter to knit the third one) I found it really enjoyable too. This may have something to do with my fond feelings for the whole project but I do hope that others will find it equally enjoyable. If you are interested in knitting Tolovana, you can get it here. And of course, don't forget to check out all the otherbeautiful patterns available at Twist Collective.
New From Twist Authors
Details

Published on Wednesday, 08 September 2010 21:00
The fall book harvest is abundant this year with great new titles from many talents featured in Twist Collective, and that we're proud to recommend.

Alison Sarnoff and Melody Moore have finally penned enough of their adorable and sassy Knit Princess strips to publish a hard copy of Knit Princess Volume 1 so you read about the wool-obsessed Tiara'd one even in the bathtub.

Regular Twist photographer Caro Benna Sheridan and the beloved Stitchy McYarnpants bring us Knitting it Old School, a sometimes silly, sometimes serious (and sometimes scifi) collection of retro-vamp patterns that includes the work of Twist contributors Marnie MacLean and Amy Herzog.

Make room on your sock book shelf for Stephanie van der Linden's Around the World in Knitted Socks, previously seen on this blog in the original German.  I'm so excited that English speaking knitters can now see Stephanie's genius in familiar terms.

And don't let me forget about friend of the house and prolific knitgrrl, Shannon Okey, and her newest book, The Knitgrrl Guide to Professional Knitwear Design, a book we highly endorse for anyone interested in cutting a professional path for themselves in the knit world.

Roxham Woolgathering
Details

Published on Tuesday, 07 September 2010 05:00
A few years ago, I went to a wool and arts and crafts gathering at a farm near the Vermont border. I remember walking around thinking that I wanted to do a photoshoot there... of what? I don't know. This was a pre-Twist.

Fast forward to this past spring and I found myself in a café meeting with a photographer whose work I had admired. It turned out that Roxham Farm was her mother's!
I felt so fortunate to shoot at Roxham Farm. The buildings are beautiful. The animals were friendly and are treated well. Jane's mother, Sue, is charming. She dyes her own wool, spins yarn and knits all sorts of things from it.

Luckily for those of you who aren't that far away, the Roxham Woolgathering is coming up in less than a week!
The Wool Gathering - a country style craft show - has been going on for 18 years. The 40 artisans are carefully chosen to exhibit originality, excellence and execution. As the location of the farm is far from any café or restaurant, food has always been a part of the show. Last year, there were five nationalities of food represented. Music in one form or another is part of the festivities and usually a sheep is shorn as well and demonstrations are held, such as spinning, knitting, black smithing and potting. The entrance is free and parking is in a nearby field. The craft fair will be on the 11th and 12th of September, 2010, from 10 AM to 5PM, at 332 Roxham, corner of James Fisher, Hemmingford. (If you're coming from Montreal, follow directions to the Parc Safari and go past it to the end of the road, that's where it is!). For more information, you can call Sue at 450-247-2174.
Below are some outtakes from the shoot that might give you more of a taste for the lovely location! Maybe we'll bump into each other there. Say hi!