Twist Collective Blog
Design Process: Carmel Clutch
Details

Published on Thursday, 22 April 2010 01:23
This blog post is cross posted from Leah Thibault's blog and is about her charming Carmel Clutch.
Photo Credit: Caro Benna Sheridan
As I hinted at a few posts back, I have pattern in 2010 Spring/Summer issue of Twist Collective.
It's my first professionally published pattern and I'm thrilled to be in such a great magazine in the company of designers I really admire.  I'm super excited about the whole thing, so I thought I'd talk a bit today about the Carmel Clutch came to be.
It started with a hat.
This hat.
Which I bought on out-of-season clearance at LL Bean a year or so ago. After I bought the hat I spent some time looking at it and realized that it was crocheted. This got me thinking, surely if you can crochet with raffia, you can knit with raffia. So I went out to a craft store on my lunch break and bought a cheap bag of raffia to give it a try.
I wanted it to have a woven looks, so I flipped through a stitch dictionary or two and came up with a swatch of herringbone stitch.
My original swatch had a half dozen knots on the back, since the raffia from the craft store came in pieces of about 3 feet long, but it was enough to know that the concept worked.  So I worked up a sketch, named the pattern after the beach community in California that I visited a handful of times in my teenage years, sent it off to Twist, and crossed my fingers.
I got the okay from the Twist folks and we decided to work up two samples, one in raffia and one in a more standard yarn, which I was more than happy to do. While I waited for the Elann Coto Canapone to come in I ordered a few spools of raffia from Raffit Ribbons and got to work.
Here's where you may ask, what's it like knitting with raffia? And the answer is not too bad. It's about equivalent to working with any other plant fiber yarn I've worked with (cotton, hemp, linen).
It's stiff off the spool and there's not a lot of give when dry and I'll admit that the purl stitches in the garter stitch sections of the bag were kinda pokey, but believe me – I've never had so much fun blocking a piece of knitting. the texture changes dramatically after it's wet and softens into something lovely!
I had finished version 1.0 of the bag, but wasn't happy with the front flap, which was done with decreases. It was too pointy and bumpy – so I set it aside for a day to decide how to fix it. I picked up some personal knitting, and while working on a version of Laura Chau's Just Enough Ruffles Scarf, the solution presented itself to me – short rows! So I pulled out the front flap and reworked it in short rows with the addition of the garter stitch border seen in the final photos.
Around this time the Elann yarn arrived and it was Christmas and I went to California for a week and did no knitting at all so by the time I was knitting the Coto Canapone version I completely forgot to take pictures. Oops! But suffice it to say, I reworked some numbers for gauge.  We also made the second sample shorter to combat potential flopiness (which if you find is an issue with your yarn I'd suggest lining it with fabric backed with interfacing or putting a book in the bag – both work)
Photo Credit: Caro Benna Sheridan
A big thanks to Twist for including me in this issue and to Caro Benna Sheridan for the lovely photos! If you have any more questions on the Carmel Clutch – let me know!
Design Process: Passiflora
Details

Published on Tuesday, 20 April 2010 01:47
Today, Julie Turjoman talks about her debut design for Twist Collective, Passiflora.
Photo Credit: Caro Benna Sheridan
Nature often inspires my designs and Passiflora, the passionflower, is no exception. It is a tenacious climbing vine that reminds me of nothing so much as exuberant lace. Our neighbors have one growing over the fence between our two gardens, and every summer I find gorgeous passiflora blooms and vines wrapped around everything from my tomato stakes to a nearby hedge, and even throwing up shoots in my garden beds several feet away!
The modest lace motif on the tunic front gives way to a surprise in back, where the motif expands outward to create an undulating, airy and open repeat. I like to add this kind of unexpected design element to my garments, often because - as is the case with this project - it gives the wearer more options in how to style it.
Photo Credit: Caro Benna Sheridan
The graduated-length side lace motif is subtle but adds an important feature; in the heat of our northern California summers, any and all "air-conditioning" in clothing is welcome! I also chose this element because it makes one look twice at the wearer, whether at the hint of skin underneath or at a contrasting color camisole seen peeking through the lace. It was these motifs winding up the tunic sides that made me certain I'd name the project after a climbing plant.
I wanted it to have a comfortable but flattering shape that draped loosely around the waist and hips but fit more snugly around the bust in order to open up the lace motif. When I saw the beautiful dusty purple shade of Elann's Incense yarn, I knew I'd found the tunic's name because the Passifloras growing over the fence into my garden are exactly this color.

A Few Awards for Twist Contributors
Details

Published on Sunday, 18 April 2010 20:00
Like a proud parent, I am delighted to share with you a couple of announcements about two of our contributors.
Paula Berman's poem from the winter issue, Clotho Visits the Local Yarn Store, has been nominated for a 2010 Rhysling Award for Poetry, given by the Science Fiction Poetry Association. The final award will be announced on at Readercon 21 in Burlington, Massachusetts in July, so our needles and fingers are crossed in the meantime for Paula. Either way, the poem will be included in the 2010 Rhysling Anthology. What a wonderful accomplishment for Paula.
And earlier this week, Ravelry announced that Mari Muinonen's Sylvi had won the 2009 Bobby Award for Best Use of Texture in a Project.
Thank you on Mari's bahalf to everyone who voted for her.  I think that's pretty neat, and have a Sylvi of my own to prove it.

Design Process: Cecchetti
Details

Published on Wednesday, 14 April 2010 20:00
Cross posted from MarnieMacLean.com
I talked about Damariscotta in my last post. This time, I'll be talking about Cecchetti
.
Most of my designs are either inspired by a detail I've seen around which I build a garment or they are an interpretation of a theme or idea someone has proposed. In this case, Cecchetti may somewhat fit the former category but in many ways it's an interpretation of a sort of nostalgia I feel for things that aren't so much a part of my life these days.
I'm a little bit bottom heavy (perhaps "pear shaped" is a more acceptable description) and I have always found drape neck designs, with their delicate folds of fabric framing the face, to be quite flattering on my figure, especially layered under the many suit jackets I no longer wear, now that I work from home. (I'm not complaining, working in my PJs with my dogs by my feet, beats looking fashionable any day of the week.)
Along with the subtle drape at the neck (for which I provide notes in the pattern for modifying it to be more or less draped) I also tried to capture the aesthetic of the warmup clothes my classmates and I used to wear when I (long ago) took ballet lessons. I was amazed at how overly long sleeves and leg-warmers, would make one's extensions and arm placements look even longer and more graceful. Cecchetti has a little more ease than those pieces I used to wear, and the soft, decadent silk and merino yarn is surely not meant for sweating and leaping, but the vertical body darts, sleeves that slip past the base of the hands and the hip length all serve to elongate and flatter the body. I think that people who knit this piece will find it very comfortable as well as flattering and very easy to modify as you go to get a good custom fit. As with most of my designs, it's knit seamlessly in the round, including the set in sleeves. And do not worry about it being all in reverse stockinette, the instructions allow you to knit it either right side (purl side) out or wrong side (knit side) out. Check out Cecchetti or any of the other beautiful Spring and Summer pieces over at Twist Collective.
Design Process: Damariscotta
Details

Published on Tuesday, 13 April 2010 20:27
Cross posted from MarnieMacLean.com
The Spring/Summer 2010 Twist Collective is up and it's visually stunning and filled with amazing designs. I was lucky enough to have two submissions accepted, and I will do a blog post for each.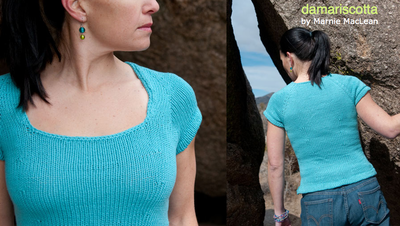 The first piece is Damariscotta
Named for a hard to pronounce but lovely little town in Maine, near where my dad's family has land. I'll sometimes fly out to Maine to go to the Fiber Frolic with my mom, and we'll all stay at a little cabin that my dad built on the land there.
Having grown up in New England and having spent plenty of time in Maine, I associate the area with a love for the ocean, a pragmatic sensibility, and a clean and structural design. I strove to capture those qualities in this top.
The piece is knit from the top down with instructions for an entirely seamless construction, right down to the double-knit hems that are grafted closed. I've also included instructions for people who might run at the sight of the words "graft" or "double-knit" so don't despair if that's not your cup of tea. I also think this piece would be magnificent with a simple lace border around the hem and sleeves, instead of a finished hem shown. A wee bit of single crochet would prevent any curling and it would turn this simple piece into something worthy of a pretty pencil skirt and heels. While I love the idea of a deep angled square neck (image it over a pretty little lace tank,) I knew that wouldn't suit everyone and that is why I chose the top-down construction instead of my preferred method of knitting bottom up. Keeping in mind that the single crochet will pull in the neck a little, one can simply throw the live stitches onto waste yarn and try the piece on to determine the most comfortable and flattering neckline depth and width.
Once you work the neckline you like best, you can shape the torso to follow every curve or leave out the shaping altogether for a more relaxed fit. The sleeves can be worked the same way, and can easily be lengthened to fit your climate and preference. So that's Damariscotta for you. I hope that those of you who like the design will enjoy knitting it, and if it's not your style, I have no doubt there's another piece in this issue that will catch your eye.